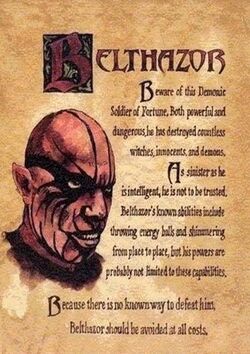 Beware of this Demonic
Soldier of Fortune. Both powerful and
dangerous, he has destroyed countless
witches, innocents, and demons.
As sinister as he
is intelligent, he is not to be trusted.
Belthazor's known abilities include
throwing energy balls and shimmering
from place to place, but his powers are
probably not limited to these capabilities.
Because there is no known way to defeat him,
Belthazor should be avoided at all costs.